Practical information about Scan-Ropes
rope access training and certification.
Further information:
If you wish to learn more about our rope rope access training and certifications, feel free to visit us, but please call in advance to make sure, that we are there.
Also you are of course very welcome to contact us by mail or by phone.

Booking:
If you wish to participate in our rope access training, you should book a place on one of our training sessions
This is best done by finding out, if there are any vacancies on the training in which you wish to take part.
This could be done, either by checking our...
- training calender or
by mailing or by calling.

If there is a vacancy we then need information about...
- which training session
and
- your name, address, telephonenumber and email address.
You can of course call us to make a booking, but it is usually better to mail us with the above information.

After this, you will receive an invoice and temporary confirmation of your training.
This will usually happen by mail within 24 hours.
Due to the very favourable relation between the number of participants in relation to instructors, we are forced to charge in advance.
After payment, you will receive final confirmation, coursematerials and all practical information etc.
This will usually be done by email.
You will also receive a link to a webpage, that is unique for that training.
This has the advantage, that you can still access all training materials even after the training.

Lodging:
In association with our trainings, we offer different lodgings.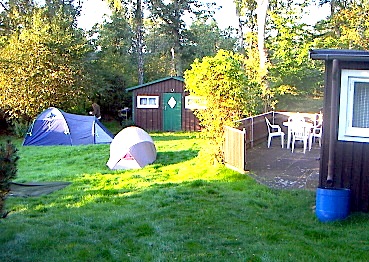 - Kullanäs:
is our second trainingcenter in the region.
Kullanäs is normally used in connection with our rockclimbing training courses.
Kullanäs is situated approximately 20 minutes drive from Scan-Rope in beatiful settings with a oceanview towards Hallands Väderö.
Here you can either put up your tent, or you can sleep inside our hut.
The hut offers simple lodging with moderate heating, light, water, toilet and a bunkbed.
You need to bring your own sleeping bag, stove and food.
There is no fee for sleeping in a tent on Kullanäs, but you must of course bring you own sleeping mattress and tent etc.
We charge DKK 50,- / night for sleeping in the hut.

- House in Hasslarp:
Associated with most of our trainings, there is a possibility of being accomodated in a rented house, just 150 meters from the training centre in Hasslarp.
Here you will find all facilities incl. bath.
This often makes for the perfect retreat after the training finishes, since you may be staying with some of the other participants, and you will thus be able to prepare much better for the next day.

The house has 5 beds in 3 rooms.
It is necessary to book accomadation in advance, and due to the limited number of beds, it is a good idea to book well in advance.
The price depends on the time of year, and the number of people, living in the house, but it would usually amount to approximately EUR. 150,- / person for the entire training, if you are approximately 4-5 persons.

- Camping, youth hostel or hotel:
Of course you can also chose to to use a campingground, a youth hostel or a hotel. Scan-Rope cooperates with a number of the above, and you will receive detailed information about this, along with the other practical information.
- If you wish to use any of these lodgings, you must make the necessary arrangements yourself.


---
Please do not hesitate to ask, if you have any questions.
Looking forward to hearing from you.

- Your friend in high places....